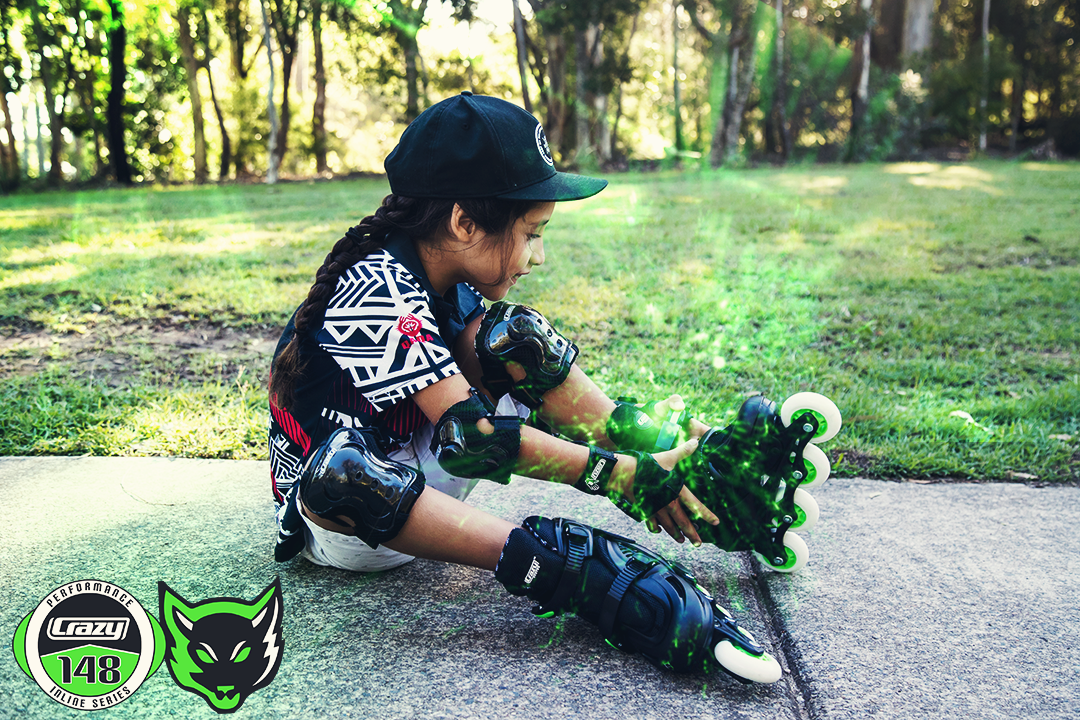 KIDS SKATING
Everything you need to know about kids learning to skate and choosing the best skates for your children.

SHOP ALL
If you and your kids are feeling ready to learn a new hobby, with supervision and the right safety gear, then there's no reason to not start learning today!
An added bonus is, that it will get the kids outdoors and get their bodies moving!
Select from a huge range of Inline and Roller Skates in bight colours and designs with our cost effective, Size Adjustable Skates starting from a Size "j10".
We have both Roller Skates and Inline Skates that are perfect for your children starting out.
For a cost affective option we would recommend getting a pair of the Size Adjustable Skates. So you can have peace of mind knowing that they won't grow out of them straight away and get more time enjoying the skates by adjusting them as the foot grows.

😱 We even have Size Adjustable Klip Klops!

So are Inline Skates or Roller Skates easier for kids to learn?

As a general rule Inline Skates tend to be a little easier to learn, but they are slightly faster than roller skates. Similar to ice skating.. Chances are if you can Ice Skate, you'll find Inline Skating very easy to transition into.

Roller Skating tends to be a slightly more difficult to learn because they can feel a little less stable, they are also prone to catching more debris from the ground that Inline Skates.

The honest truth is that most children who are learning to skate for the first time, will easily be able to master the basic movements of skating within about a 30 minute period of effort.

So, we suggest having a relaxed approach and letting them choose based on the style they are most drawn too, then they will want to wear their skates more as well.
As they say, Practice makes Perfect!
The best process to find your correct size is to use physical measurements from your best fitting shoes, and then find a skate with matching dimensions. Relying on a shoe size is leaving more to chance because shoe sizes differ greatly from brand to brand and even between models.

To take the guesswork out of it all, we have created a step by step process that you can use to find your correct fitting skate (or find the size of someone else, without them knowing about it!).

See our sizing infographic here:

SIZE GUIDE


Remember that each skate model may have slightly different sizing, so it's best to double check your measurements as you add your skate to cart to make sure you are getting exactly what you want.

If you are still unsure, please reach out via CONTACT US
There are so many reason's why you should support your child in choosing to learn how to skate.
It's great for physical and mental health, here are just a few reasons why:
Improved Balance
Coordination
Exercise
Confidence
Socialization
It could also be a creative outlet to express themselves when combined with dance and music.
Besides all that, SKATING IS FUN!!
Shop the look
💁‍♀️ NEED HELP WITH SIZING?
Check out our easy to follow guide on how to choose the right skates for your child.
free download - paint by numbers
We are sooo excited that you are on a journey to skating.
One last thing, we don't suggest skating outdoors if its a rainy day, the water can damage your skates.
Enjoy our Paint By Numbers to help pass the time until you can get back on your skates again! 🌞🌴
Choose Kid's Roller Skates & Inline Skates
Comprehensive guide to everything you need to know about kid's skates! If you're looking to get your child into skating, you've come to the right place. In this guide, we'll cover everything from how to choose the right skate for your child to getting the perfect fit.
Choosing the right skate for your child is important, as it can make all the difference in how quickly they learn and how much they enjoy skating. There are many factors to consider, such as the type of skating your child wants to do, their skill level, and their foot size. We'll walk you through all of these considerations and provide tips on how to make the best choice for your child.
Getting the right fit is also crucial when it comes to kid's skates. If the skates are too loose or too tight, your child won't be able to skate comfortably and safely. We'll show you how to measure your child's foot and choose the right size, as well as provide tips on how to break in new skates.
In addition to all of the practical information, we also have plenty of fun activities for your child to enjoy while they're learning to skate. From games and challenges to skating rinks and parks to explore, there's no shortage of excitement to be had. And if you're looking for the latest news and products designed specifically for kids who love skating, we have you covered there too.
So whether your child is just starting out or has been skating for years, we're here to help you make the most of their skating journey. Let's get rolling!